Every farm should have one of the hoof trimming chutes that are available – it is the piece of equipment that has the best ROI. Proper and timely hoof trimming is crucial for healthy hooves and preventing lameness in cows and other livestock. Safe and effective cow handling is essential to make this chore a breeze.
Our goal is to assist you in selecting the best chute for your farm, ensuring effective and safe hoof health management for cattle farmers. We built an overview of top-tier options that are available, making it easier for you to make an informed decision.
Hoof Trimming Chutes: A Comprehensive Guide for Dairy Care
We offer an informative, easy-to-navigate page dedicated to various hoof trimming chutes available in the Canadian and USA markets. This hub page shows you information from diverse manufacturers in one place, thereby serving as a valuable resource for anyone in the cattle industry. Our unique, downloadable hoof disease chart also helps in the accurate diagnosis of common hoof problems. This commitment to effective hoof care makes Diamond Hoof Care a valuable partner for cattle operations regardless of herd size, ensuring that professionals and farmers are equipped with the right knowledge and tools.
Attention Hoof Trimming Chute Manufacturers
Could you be the next hoof chute we feature on our page? If you're a manufacturer of hoof trimming chutes, we'd love to hear from you and offer your innovation to our community on this page.
We're always keen to add new, high-quality options to our resource page to ensure that farmers and livestock owners have the most up-to-date and effective tools at their disposal.
Would you like to contribute to the Ag community? Do you believe you offer a chute that could help safeguard the well-being of animals and the safety of the farmers? Then feel free to contact us and show our farming community what you've got. 
A Guide to Hoof Trimming Chutes
There are various types of chutes available, each designed to cater to different needs and preferences. Some chutes offer hydraulic features, allowing for easy and precise positioning of the cow's hoof. Others come with adjustable restraints, ensuring the cow's safety and comfort during the trimming process.
When selecting a chute, it's essential to consider factors such as size, durability, and ease of use. A well-designed chute should provide ample space for the cow to stand comfortably while allowing the trimmer easy access to the hooves. It should also be constructed from sturdy materials that can withstand the weight and movement of the cow, ensuring its long-term durability.
Additionally, features like non-slip flooring and proper restraints are crucial for maintaining the cow's stability and reducing stress during the trimming process. The chute should provide a secure environment that minimizes the risk of injury to both the cow and the trimmer.
Investing in a high-quality hoof trimming chute is an investment in the overall well-being and productivity of your dairy herd. It ensures efficient and safe hoof trimming, leading to healthier cows and better overall hoof health management.
The information and comparisons of hoof trimming chutes provided on this page are intended solely as an exclusive resource for informational purposes. Users are encouraged to independently verify the manufacterer's information and exercise their discretion when making decisions based on the content presented. 
Anka Chute: Innovative Hoof Trimming Solutions
The Anka Chute is a groundbreaking product designed for efficient and low-stress hoof trimming without disrupting overall farm management. Manufactured by Anka, located in Spain, this chute ensures smooth and stress-free hoof trimming for every cow. The chute is built for the on-farm trimmer and for the professional hoof trimmer. 
Specifications for the Anka Chutes
Anka Crush Chute: Protecting Your Livestock's Health and Comfort
The unique Anka Chute crush/hydraulic system is built to minimize the effort of hoof trimming while maintaining a comfortable posture. Features such as a special leg restraint with no movement possibilities and a double belly band for fast, safe, and nonstressful lift and restraint of the cow, make it ideal for the modern farm environment. Its "one cow in/one cow out" concept optimizes the time taken per cow without causing undue stress.
To purchase the Anka Chute and learn more about Anka's innovative hoof trimming solutions, visit Anka's website by clicking the button below. With the Anka Chute, you're investing in your livestock's health and minimizing stress during the hoof trimming process.
Where to Find the Anka Chute
Contact: Jamie Sullivan
Phone: (204) 771-8943
Appleton Steel Chute: Hydraulic and a Master Chute
When it comes to innovation and efficiency, Appleton Steel Chutes can be likened to a high-tech tractor on a modern farm – capable, flexible, and engineered for the best results. This hydraulic chute provides the ultimate experience for farmers who target precision and speed in their hoof trimming operations. 

With the Appleton Steel Chute, farmers can say goodbye to the days of struggling with manual chutes. The hydraulic system takes the hard work out of hoof trimming, allowing farmers to focus on other important tasks on the farm. The chute's advanced features, such as adjustable head restraints, hydraulic front leg lifts and secure locking mechanisms, provide both safety and comfort for both the farmer and the animal.
Specifications for Appleton Steel Chutes
Where to Find Appleton Steel Chutes
When purchasing an Appleton Steel Chute, it is essential to consider factors such as the size of the chute and any additional features that may be required. By thoroughly researching and comparing different options, farmers can make an informed decision and invest in a chute that will enhance their hoof trimming operations for years to come.
Phone:

(920) 830-0277
E-mail: Bryant@AppletonSteel.com
Berkelman's Welding: Hoof Trimming Chute Layover
Berkelman's Welding & Manufacturing is an Ontario livestock industry manufacturer known for designing the superior-quality Berkelman's Chute. This chute is meticulously engineered to provide an efficient and reliable hoof trimming solution.
Berkelman's Chute: Where Functionality Meets Excellence

What sets the Berkelman's Chute apart is its heavy-duty construction for lifelong use and the combination of modern design with time-tested manual control. These chutes are renowned for their stability, providing a safe and stress-free environment for your livestock during the trimming process.
The design is simple yet functionally effective, ensuring easy handling and control of animals. These impressive features make Berkelman's Chute a standout in hoof health management.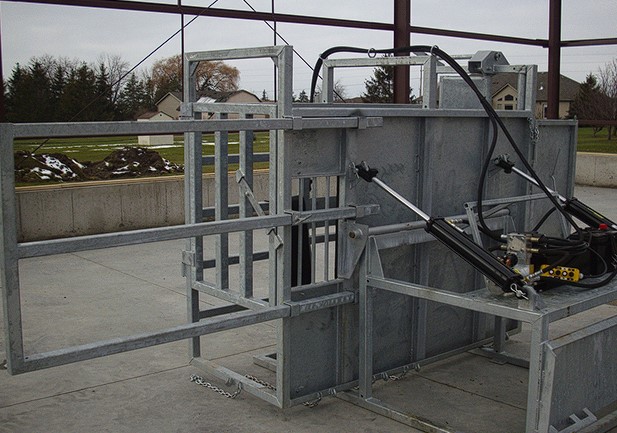 Specifications for the Berkelman's Chute
Where to Find the Berkelman's Chute
Those interested in investing in a Berkelman's Chute can effortlessly purchase one by visiting the official website by clicking the button below. Owning a Berkelman's Chute means you are investing in quality, durability, and functionality, providing your livestock with the optimal hoof care they deserve.
Phone: (519) 765-4230
Email: info@berkelmanswelding.on.ca
Comfort Hoof Care - Leading Manufacturer of Hoof Trimming Chutes
Comfort Hoof Care is a reputable manufacturer, known for its premium hoof trimming chutes. Their hoof health equipment is designed with high precision and superior technology to ensure accurate and safe trimming operations. In 1997, Diamond Hoof Care purchase its first Comfort chute and we trimmed many cows with great success. Their cutting-edge chutes are recognized globally, supplying trimming equipment, technology, and products to over 75 countries.
Specifications for the Comfort Chutes
Where to Find Comfort Chutes
Can't wait to get your hands on one of these fantastic chutes? It's easy! You can purchase Comfort Hoof Care chutes directly from their website, or through their trusted network of global distributors. Wherever you're located, Comfort Hoof Care has you covered. Make hoof trimming hassle-free by embracing a Comfort Hoof Care chute today.
Contact: Melanie Burgi
Phone: (608) 356-3834
E-mail: mburgi@savecows.com
Dr. Hoof Chute: By SteelHead Ag in Ontario
Located in Ontario, Canada, SteelHead Ag stands as a premier provider of advanced cattle handling equipment designed for maximum efficacy and ease of use. Like the reliable old red barn that's been in use for generations, Dr. Hoof Chute is your basic but dependable chute for regular hoof care. It's designed for ease of use and the comfort of both the trimmer and the animal.
Specifications for Dr. Hoof Chutes
Where to Find Dr. Hoof's Products in Canada

The Dr. Hoof chutes are available through various Canadian dealers.
Contact Brendan Diefenbacker for your local dealer information and detailed information on the Dr. Hoof chute. This unit ships across Canada, the USA and internationally for reasonable shipping rates.
Phone
:  519-266-6877
E-mail: Sales@SteelHeadAg.com
Fineline Hoof Chute: Excellence in Hoof Trimming Solutions
Fineline Hoof Trimming Technologies is a distinguished manufacturer of hydraulic cattle hoof trimming chutes. Centrally located in Southern Ontario's key dairy region, they are committed to building tools and providing service to hoof trimmers worldwide, setting a new standard in the industry.
Efficiency and Durability: Fineline's Signature Features
The uniqueness of the Fineline Hoof Chute lies in its ergonomic design and gentle treatment of cattle, making it an excellent choice for hoof care workers. It is powered by a 230V single-phase 20amp supply and can maintain a flow of 25-28 cows per hour at a quiet low speed. Its construction is sturdy and washable, with the use of stainless steel and aluminum ensuring its durability. Essential features include two 5-gallon accumulators, a battery backup for lighting, and the ability to drive up to 150ft while unplugged.
Specifications for the Fineline Hoof Chutes
Where to Find the Fineline Hoof Chutes
This chute not only boasts of excellent performance and durability but also redefines what 'standard' should mean when it comes to hoof trimming technologies. If you want to purchase the Fineline Hoof Chute, contact Fineline Hoof Trimming Technologies at the number below or by clicking the contact button.
Phone: (519) 291-0355
Email: randall@finelinehtt.ca
Jake's Cow Treatment Chute: Professional Hoof Care Performance
Jake's Cow Treatment Chute, manufactured by Jake's Welding Inc, is an indispensable resource for maintaining and improving your cow's hoof health. Combining efficiency and comfort, it guides you in the hoof trimming process and ensures optimal outcomes for both your cattle and your farm.
Model 600 Chute: Ultimate Comfort and Adaptability
The Jake's hydraulic Model 600 trim chute offers an all-inclusive solution for professional hoof care. It stands out due to its superior cow comfort, adjustable posture height for the operator, and a galvanized frame with a top-mounted electric pump ensuring longevity. The Model 600 includes essential features such as a hydraulic cradle, hydraulic foot winch, adjustable footrest, 20″ hydraulic elevation range, hydraulically raising rear door, and side doors that open for performing veterinary surgery. This durable chute is designed with a rubber floor, providing a comfortable and safe area for the cow during treatment.
Specifications for the Jake's Cow Treatment Chutes
Where to Find the Jake's Cow Treatment Chutes
Inquiries for Jake's Cow Treatment Chute can be submitted on the website by clicking the button below. The unique features of the Model 600 ensure an efficient and comfortable hoof trimming process, making it an excellent long-term investment for your dairy operation.
Jake's Welding
Phone: (519) 468-3676
E-mail: admin@jakesweldinginc.com
KVK Hydra Klov - Redefining Hoof Trimming Chutes
KVK is a Danish manufacturer known for producing the KVK Hydra Klov, an innovative hoof trimming chute that stands out in the market for its ergonomic design and the primary focus on cattle comfort. The company operates worldwide and has a dealer in Canada and the USA.
The KVK Advantage – Unique, Durable & Effective 
The KVK Hydra Klov chute is not your everyday hoof trimming chute – it embodies KVK's passion for healthy hooves and calm cows. What sets this chute apart is its attention to "great ergonomics," which not only signifies a durable and healthy work life for those using it, but also an optimal cow flow. This thoughtful design approach brings together functionality and animal welfare, resulting in effective trimming sessions with minimal stress for both operator and animal.
Specifications for the KVK Chutes
Where to Find KVK Chutes
With KVK's global outreach, purchasing these chutes is relatively easy. Rigorously tested to meet international standards, the Hydra Klov chute is available for purchase through their extensive dealer network, ensuring accessibility to customers around the world needing this seamless blend of comfort and functionality in their hoof care routine.
Contact: Raymond Boulais
Phone: (438) 868-4141
Mid Valley Manufacturing: Advancing Hoof Care with Superior Layover Chutes
Mid Valley Manufacturing, based in Canada, leads the industry with practical and quality solutions like the Mid Valley Chute. This product is designed to bring a significant improvement in dairy farmers' hoof trimming routines. The layover chute is easy to operate and built solid.
Mid Valley Chute: Efficiency, Comfort, and Safety in Hoof Trimming
The Mid Valley Chute distinguishes itself through its unique design focused on safety, comfort, and operational efficiency. What sets it apart is the integration of hoof health care aspects with easy-to-use functionality, creating a chute that can be comfortably handled by the cows and efficiently used by the operator.
The chute's design aims to keep the cow stationary with their legs securely fastened during the trimming operation, which allows for a safer and more effective hoof care routine. Highlighting versatility and practicality, the chute can be mounted anywhere with a 120-volt power supply, making it a convenient addition to any farming environment.
Specifications for the Mid Valley Chute
Where to Find Mid Valley Chutes
For those interested in purchasing a Mid Valley Chute, reliable services are just a phone call away. You can reach out to them on their website by clicking the button below. With Mid Valley Manufacturing, you're choosing a partner devoted to the health and productivity of your dairy cows.
Paul's Hoof Trimming Chute: Quality Meet Affordability
Paul's Hoof Trimming Chutes are the result of a hoof trimmer (Paul Buskager) who put his industry knowledge to create practical and cost-effective hoof trimming solutions. These chutes are designed with farm operations in mind, providing top-quality options for dairy farmers and on-farm hoof trimmers alike.
Paul's Hoof Trimming Chute: Seamless Integration of Design and Functionality
What sets Paul's Hoof Trimming Chutes apart from the rest is its focus on affordability without compromising on quality. This means you get a robust and effective chute at a very reasonable price. The chute is designed to easily facilitate regular and cost-effective hoof trimming routines. Buying a hoof trimming chute is not just a purchase but an investment towards maintaining the health of your herd.
This uniquely designed chute allows farmers to trim, check, and maintain their cows' hoofs independently without needing to hire external help. Its user-friendly manual-operated style is geared towards making your life easier on the farm.
Specifications for the Paul's Hoof Chutes
Where to Find the Paul's Hoof Trimming Chute
To purchase Paul's Hoof Trimming Chute, you simply need to visit their website by clicking the button below. As a manufacturer selling directly to customers, Paul's Hoof Trimming Chutes offers the advantage of saving you money while delivering product excellence.
Real Tuff Trimming Chute: Enhance Your Hoof Care Routine
Real Tuff presents the Hoof Trimming Chute, designed for optimal hoof care while bringing necessary functionality and quality to your livestock management. This trimming chute is not only robust but highly versatile, giving you more control over your cattle's health.
Real Tuff Trimming Chute: A Comprehensive Solution for Hoof Care
The Real Tuff Trimming Chute is unique because it provides an all-in-one multifunctional unit that caters to hoof trimming, hoof wrapping, and even pregnancy testing. With dimensions of 7′ H x 8'6″ L x 3'4″ W and an approximate weight of 1,200 lbs, this chute ensures durability, stability, and security while handling your cattle.
The chute is designed with practicality in mind, allowing for seamless integration into your current farm operations. Its versatility to handle multiple functions saves you time and resources, making it a valuable addition to any hoof care routine.
Specifications for the Paul's Hoof Chutes
Where to Find the Real Tuff Trimming Chute
To purchase the Real Tuff Trimming Chute, head over to their website by clicking the button below. The investment in a good hoof trimming chute will make your hoof care and livestock management a breeze.
Phone: (218) 776-3188
Email: realtuff@westriv.com
Riley Built: BULLET-PROOF Hoof Trimming Chutes
Established in 1971, Riley Built is a hoof trimming chute manufacturer, focusing on quality, efficiency, and durability. Their hydraulic lay-over hoof trimming chutes are designed to withstand the test of time, ensuring trimmers have the tools and education necessary to complete the job correctly and efficiently.
Unparalleled Durability and Support: The Riley Built Experience
Riley Built's hoof trimming chutes stand out because of their bullet-proof construction, safeguarding against wear and tear for a long-lasting investment. What sets this chute apart is its commitment to innovation and accessibility. Riley Built's Hoof Trimming Chute is unique in its design, catering to the specific needs of farmers and livestock handlers. Crafted with precision and durability in mind, it ensures the utmost safety for both the animals and the operators during the trimming process.
Specifications for the Riley Built Chutes
Where to Find the Riley Built Chutes
These chutes can be easily purchased through Riley Built's official website, providing a convenient and reliable source for farmers looking to invest in top-tier hoof trimming equipment.
Riley Built Trimming Chutes
Phone: (806) 777-3643
E-mail: william@rileybuilt.com
Spin Trim Chute: Versatile Hoof Trimming Solution
The Spin Trim Chute, offered by Lakeland Farm and Ranch, is a must-have for those raising sheep and goats. With an emphasis on versatility and efficiency, this chute is designed to provide reliable support for various tasks around the farm.
Tackling Hoof Trimming, Tagging, Banding, and More
This innovative chute is perfect for hoof trimming, tagging, banding, and de-worming, ensuring that you have all the tools you need for your sheep and goat management. The Spin Trim Chute is the ultimate sheep and goat handler that will streamline your operation, making tasks more manageable and efficient.
Specifications for the Spin Trim Chute
Where to Find the Spin Trim Chutes
To purchase the Spin Trim Chute, visit Lakeland Farm and Ranch online. Invest in this multi-functional chute to simplify and enhance the way you handle the needs of your sheep and goats, allowing for improved care and productivity on your farm.
Lakeland Farm & Ranch
Phone: 1-866-443-7444
Tuffy Tables Hoof Trimming Chute: Revolutionizing Hoof Care
The Tuffy Tables Hoof Trimming Chute, available by Tuffy Tables, is a premier livestock handling solution. With an unwavering commitment to quality and functionality, this chute provides an essential support system for everyday farm operations.
Enhancing Efficiency and Safety with Innovative Design
Tuffy Tables Hoof Trimming Chute is a breakthrough in the field of livestock management, built to provide the utmost comfort and efficiency. Its innovative design ensures a smooth and effortless process for hoof care. The durable construction paired with an ergonomic design makes it unique, ensuring long-lasting reliability for your farm tasks.
Specifications for the Tuffy Tables Chute
Where to Find the Tuffy Tables Hoof Trimming Chute
Enjoy the unique style, affordability, and reliability of Tuffy Tables, a manufacturer that's truly dedicated to revolutionizing hoof care. To purchase Tuffy Tables Hoof Trimming Chute, contact Tuffy Tables at the address below or by clicking the contact button.
Tuffy Tables LLC
Phone: (866) 938-8339
E-mail: sales@tuffytables.com
Wopa Chute: The Pioneer in Claw Treatment Technology
The Wopa Chute, brought to you by Wopa Hoof Care, represents a cutting-edge solution for your cattle's claw care needs. With a focus on quality and innovation, Wopa Hoof Care delivers products designed to excel in functionality and durability. This Dutch company provides equipment to various ag colleges and universities.  
The Wopa Chute: Optimizing Functionality and Quality
The Wopa Chute stands out due to its design and attention to quality, making it a unique product in the market. From claw treatment products to accessories and wearing parts, Wopa ensures a comprehensive hoof care solution for your livestock. The hoof trimming chutes are built according to the guidelines of the CE mark, promising safety, function, and quality assurance.
The Wopa is an open-design, upright hoof trimming chute. All Wopa chutes are hot-dip galvanized. High-quality chutes for hoof-trimmers, dairy farmers, cattle farmers, veterinarians and DHI breeding stations.
Specifications for the Wopa Chute
Where to Find the Wopa Chute
You can purchase the Wopa Chute from Wopa's website as well as from sales outlets set up in various countries around the world. The Wopa Chute, aimed at enhancing efficient hoof care, optimizes animal welfare to ensure that your cattle can thrive in the best possible conditions.
The Wopa Hoof Trimming Chutes are sold and serviced in Canada by:
Jeffrey Elschot
Phone: (780) 305-0246
E-mail: wopa-canada@hotmail.com
Hoof Trimmers Association Equipment Ads: A Treasure Trove for Farmers and Professionals
The Hoof Trimmers Association features an Equipment Ads page on their website, which is a practical and beneficial resource for anyone in the farming or professional hoof trimming sectors. This page provides an opportunity to find high-quality used equipment, promoting sustainability while also offering great deals.
Finding Value and Sustainability in Used Equipment
The platform encourages members to sell their used equipment, providing an avenue to procure affordable and high-quality tools for hoof trimming businesses or farming needs. Ad postings can include a myriad of equipment, meaning there are often great deals to be found. Whether you're setting up a new farm or looking to upgrade your tools, the Hoof Trimmers Association Equipment Ads page at hooftrimmers.org can be an excellent place to scout out cost-effective options.